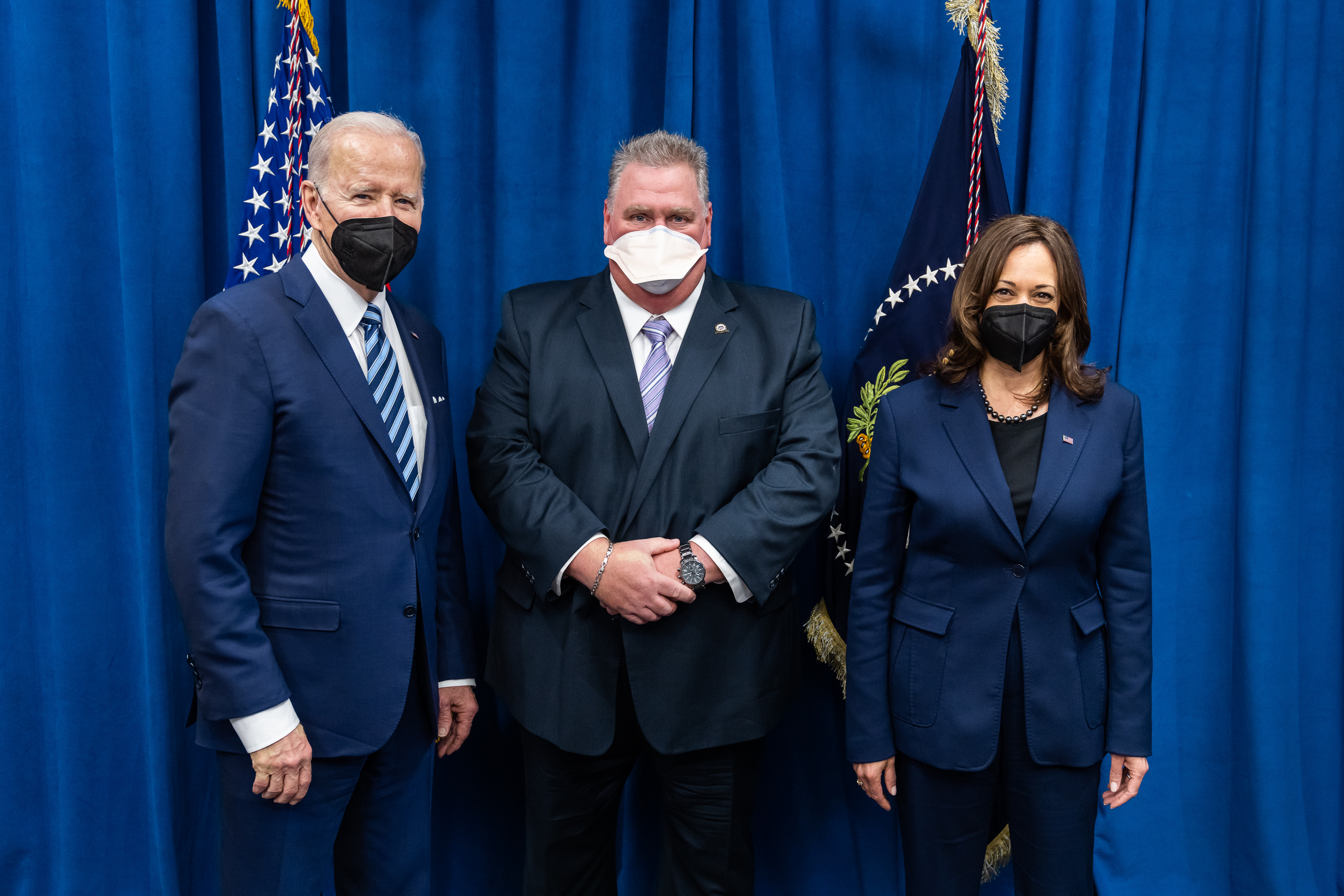 Applies to Federally funded projects over $35 million
On Feb. 4, President Biden signed an Executive Order requiring Project Labor Agreements be used on federally-funded projects with a price tag of at least $35 million.
Pete Ielmini, LMCT Executive Director, was invited to attend the signing ceremony, which took place at Ironworkers Local 5 in Upper Marlboro, Md. He was honored to witness the President sign the order to boost the quality of federal construction projects by insuring the use of union labor through PLAs.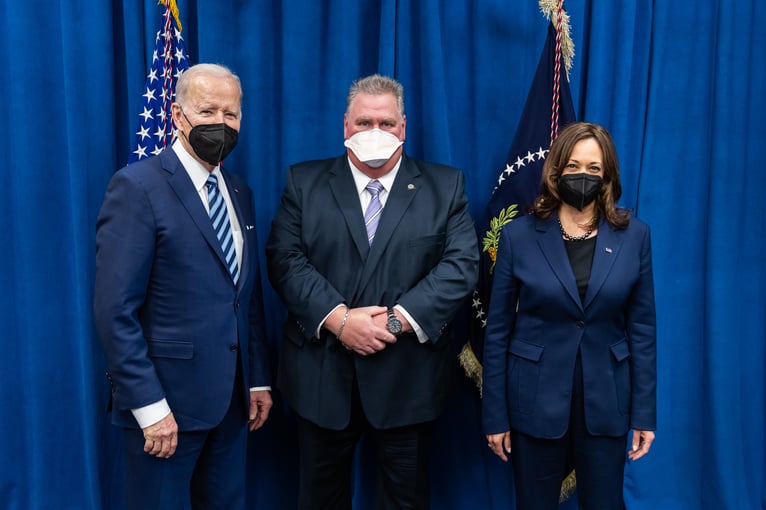 The event's speakers Biden, Vice President Harris and U.S. Labor Secretary Marty Walsh Labor repeatedly stated the benefits of PLAs – collectively bargained contracts between a general contractor and/or project owner and labor organizations to establish terms and conditions for employment.
As multiple studies and countless jobs have shown, PLAs help construction projects come in on time and on or under budget by using only a highly trained and highly skilled union construction workforce. This ensures a high quality of work that is performed correctly the first time. Additionally, PLAs promote good wages, strong health and safety standards and labor peace.
"…it help ensure we build a better America, we build it right, and we build it on time, and we build it cheaper than it would have been otherwise," Biden said.
"You know, the executive order is making sure federal construction projects get completed on time and under budget, saving taxpayers money, clearing construction zones quickly, and ensuring everything the federal government signs to contract to build is built to last," he added.
Based on FY2021 figures, the White House believes the PLA mandate will affect $262 billion in federal government construction contracting, while also improving job quality for the nearly 200,000 construction workers that would work on those federal contracts.
The Executive Order applies to all federally procured projects over $35 million. However, the order's accompanying fact sheet stated it excludes large portions of the Infrastructure Investment and Jobs Act. Most IIJA work will be excluded because the projects are financed through grant dollars to non-federal entities.
Not only will taxpayers benefit from Executive Order, but it will help people in the middle class.
"I tell you who built America: The middle class," Biden said. "And the people who built the middle class are organized labor – unions. Unions did it. That's not hyperbole. That's a fact. That's a straight fact."
In addition to discussing the benefits of PLAs, the President also spoke about the building trades' registered apprenticeship programs.
He praised apprenticeship programs and said they were just as good as a four-year college degree, but without the debt. Biden noted registered apprenticeship programs produce highest journey who perform degree of professionalism.
"The American worker is the hardest working best trained worker in the world, which is good for the American Taxpayer," said Biden.
Following the event, North America's Building Trades Union President Sean McGarvey issued a statement.
"Today's announcement is welcome news for all workers, union and nonunion. Project Labor Agreements address labor supply issues, secure workers' classification, set good wages, promote strong health and safety standards, and ensure that largescale projects are completed on time, with the highest degree of quality, efficiency, and safety," he said.
He noted PLAs improve local hiring goals to transition more workers into construction careers and pre-apprenticeship requirements in PLAs help thousands of women, minorities and veterans access construction career pathways. As a result, these agreements are proven to
boost local economies, address inequities and uplift marginalized communities and achieve substantial, direct cost savings by standardizing contract terms among various crafts.
"The inclusion of project labor agreements will protect the public's interest, improve worker opportunities, and enhance the competitive market by creating a uniform and stable system of labor relations for projects," he added.
The Mechanical Insulators LMCT recognizes that President Biden and Vice President Harris both have been staunch supporters of union labor and this Executive Order reinforces the administration's commitment to the union construction industry as a major component of the middle class, which is the backbone of the U.S.