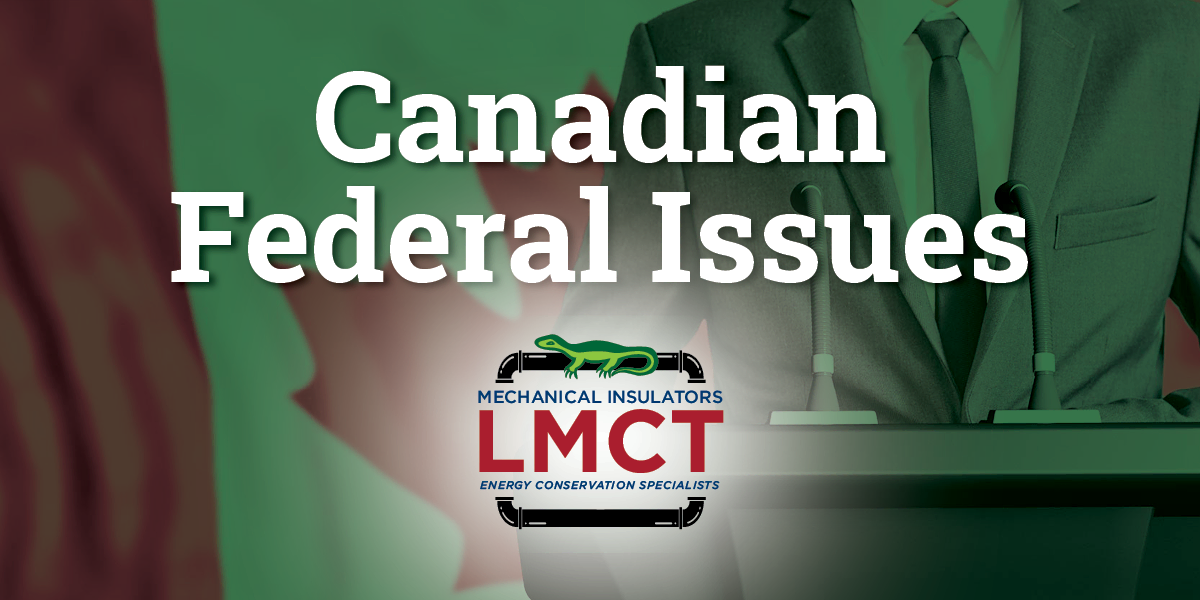 As the Government of Canada moves into the COVID-19 pandemic recovery phase, Insulators have prioritized advocacy toward investments in retrofitting Canadian buildings, as well as industrial and commercial facilities. These investments will help this growing sector meet the demand of government programs and advance Canada's emission reduction targets. Buildings are estimated to account for approximately 17 percent of Canada's total greenhouse gas emissions (GHGs).
To enable the expansion of the energy efficiency workforce, Insulators also continue to advocate for training, equipment, and apprenticeships for the skilled trades, particularly those that are working to innovate within the burgeoning green economy. By investing in training in specific building trades such as mechanical insulation, the federal government can improve the productivity and competitiveness of the Canadian economy, and contribute to environmental objectives, including reducing GHGs.
Insulators make a compelling argument how sustained investments in training and apprenticeships, with a focus on energy efficiency trades, will help grow the middle class and train the future workforce while improving the productivity and competitiveness of Canadian industry. As Canada pivots to the social and economic recovery from the COVID-19 pandemic, now is the time to maximize investments in energy efficiency, training and improved labour mobility to facilitate an effective and sustained recovery. This will improve the productivity, competitiveness and resilience of the Canadian economy and labour force.
While short term advocacy is focused on energy efficiency incentives for commercial and industrial facilities, Insulators remain steadfast in supporting a National Mesothelioma Patient Registry. The submission to the Finance Committee includes a recommendation that the Government of Canada strike an interdepartmental Asbestos Ministerial Working Group to be tasked with studying the feasibility of establishing a Mesothelioma Patient Registry.
The mechanical insulation trade represents asbestos workers, most of whom know colleagues, friends and family who have been stricken by this form of cancer. This is a core motivation for of the Heat and Frost Insulators' advocacy for a National Mesothelioma Patient Registry.
In 2018, the Canadian government took a bold stance and banned asbestos and asbestos-containing products. The next important step is the creation of a working group to study and advance a Mesothelioma Patient Registry as the first stage of a National Asbestos Strategy. A registry can be a powerful tool - to increase the understanding of the disease and support the development of treatment protocols and therapies to prolong life and, hopefully, cure the disease.
Canada's Heat and Frost Insulators have encouraged the federal government to form an Asbestos Ministerial Working Group composed of senior departmental officials from Health Canada, Infrastructure Canada and the Department of Labour. The working group would be supported by an external Advisory Committee, which could include healthcare practitioners, academics, and representatives from the building trades, victims' groups and others who would utilize or benefit from such a registry.