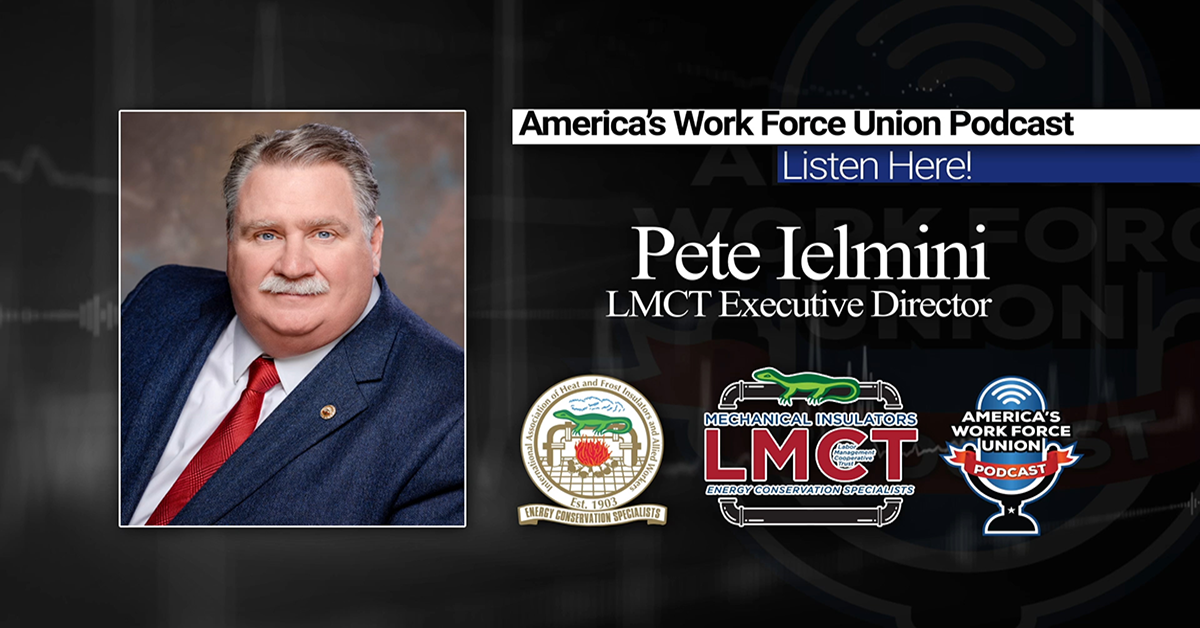 In his monthly appearance on the America's Work Force Union Podcast, Pete Ielmini, Executive Director of the Mechanical Insulators Labor Management Cooperative Trust (LMCT), discussed the proposed Federal Mechanical Insulation Act and how it is tied into registered apprenticeship programs.

While it has yet to happen, Ielmini is confident Rep. Linda Sánchez (D-Calf.) will soon re-introduce the Federal Mechanical Insulation Act into the new Congress.

During the Jan. 25 AWF Union Podcast, Ielmini said all the bill's original co-sponsors will once again co-sponsor the legislation. He is also trying to get additional lawmakers on both sides of the aisle to support the bill's introduction.

The Federal Mechanical Insulation Act is a bipartisan issue that aims to save energy and public funds by requiring a Mechanical Insulation Energy Audit on all federal buildings. Additionally, it will require that any Mechanical Insulation work on federal projects must be performed by individuals who finished or are currently enrolled in a registered apprenticeship program.
Why are registered apprenticeships successful?
Building trades registered apprenticeship programs provide participants with on-the-job training and education to meet federal criteria. It is considered the gold standard among apprenticeship programs.

Ielmini then explained how registered apprenticeships work and the benefits of proven educational skill development programs that offered graduated wages and benefits with decades of proven success.

He noted the process is similar to what doctors go through when they begin their medical residency, a balance of field experience with professionals, blended with formal classroom teaching and theories.
Registered apprenticeship programs do not have to be union
As part of the advocacy process for the FMIA, Ielmini emphasized the importance of educating members of Congress on the union versus non-union debate.

As Ielmini emphasized, too many people and entities exclusively link apprenticeship with unions. While there is a good reason for that, it is not exclusive. Union members pay into the training program to have their successors be trained to be the best in order to continue the high standard of work.

It is a large commitment that receives matching funding to produce a world-class training model.

For any employer who wishes to make and fund such a program, plus receives the approval of the U.S. Department of Labor, that opportunity is available. It is a great acknowledgment that the best-trained workers come from the union, but let us be clear why. As such, registered apprenticeship programs are not exclusive to building trades unions. He said independent businesses who want to invest in their employees have created their own private sector apprentice programs. However, they must comply to meet the standards of the U.S. Department of Labor to ensure quality and equal opportunity.

A case in point, Ielmini stated, is in Maryland, where there are 11 Mechanical Insulation apprenticeship programs, however, only two are union affiliated. Ielmini explained how private sector programs are eligible to work on Federal Mechanical Insulation Act projects if they meet the same Federal standards as the union's registered apprenticeship programs.
The goal of the FMIA is to save energy and taxpayer money
It is not a union versus non-union issue
The language of the proposed Federal Mechanical Insulation Act requires all Mechanical Insulation work to be performed by someone who has completed a registered apprenticeship program. Members of Congress, he said, need to understand this is not a union versus non-union issue. Instead, it is about making sure the work is performed correctly and according to high working standards by highly skilled and highly trained insulators.

The goal is to save taxpayers money by making systems energy efficient for a long period of time through quality workmanship.

Listen to the podcast to learn more about the FMIA and registered apprenticeship programs.