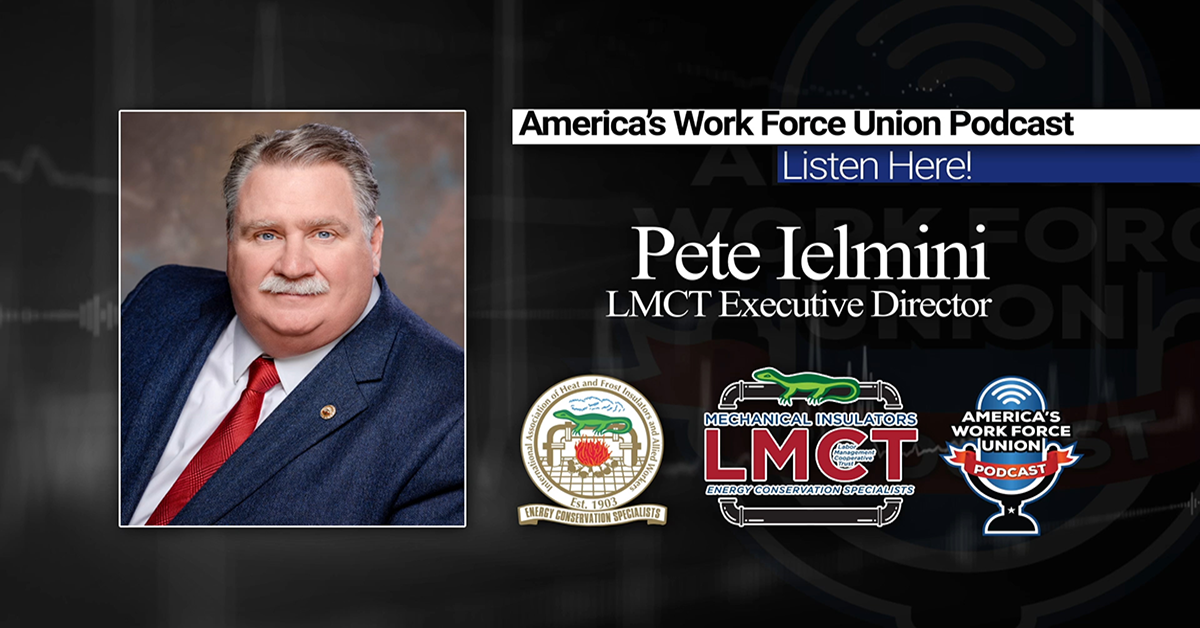 Mechanical Insulators Labor Management Cooperative Trust (LMCT) Executive Director Pete Ielmini appeared on the America's Work Force Union Podcast and discussed the importance of Mechanical Insulation energy audits and why the National Energy Conservation Policy Act should be amended to make them mandatory.
Thanks to the National Energy Conservation Policy Act, energy audits are commonplace, but unfortunately, few address Mechanical Insulation, Ielmini said. A Mechanical Insulation energy audit provides a focused and specific evaluation of a building's Mechanical Insulation efficiency, he explained. It quantifies the energy savings that can be achieved through improved Mechanical Insulation in dollars and cents.
Ielmini feels the value of Mechanical Insulation is often misunderstood and underappreciated. He estimated that roughly 30 percent of U.S. buildings lack 10 percent to 30 percent of adequate Mechanical Insulation, leading to a 50 percent to 60 percent reduction in utility efficiency.
This lack of efficiency wastes fuel and money and hurts the environment, Ielmini said.
When building managers and politicians see the potential energy savings detailed in a Mechanical Insulation Energy audit, their jaws tend to drop, Ielmini said. Such an audit can be a game changer to help people understand the quantifiable value of Mechanical Insulation, he added. Ielmini estimated that the return on investment for Mechanical Insulation is two to six years.
The LMCT is currently working with U.S. Rep. Linda Sánchez (D-Calif.) to draft language to potentially amend the National Energy Conservation Policy Act and make Mechanical Insulation energy audits mandatory for federal buildings, he said.
The importance of the labor vote in the coming election
Ielmini also talked about the importance of voting and supporting pro-union candidates.
Spearheaded by the AFL-CIO, members of the labor movement take "Labor Walks" during election season, as affiliated members go door-to-door speaking with fellow union members to promote labor-friendly candidates and issues, Ielmini explained. This old-school approach with face-to-face contact can be effective at increasing the labor vote turnout, he added.
Ielmini then stressed the importance of supporting issues important to working families. He explained how a small percentage of organized workers can swing an election, especially if the election is tight. Democracy is the people's voice, but that voice is only as loud as their willingness to vote, he added.
Listen to the entire interview: