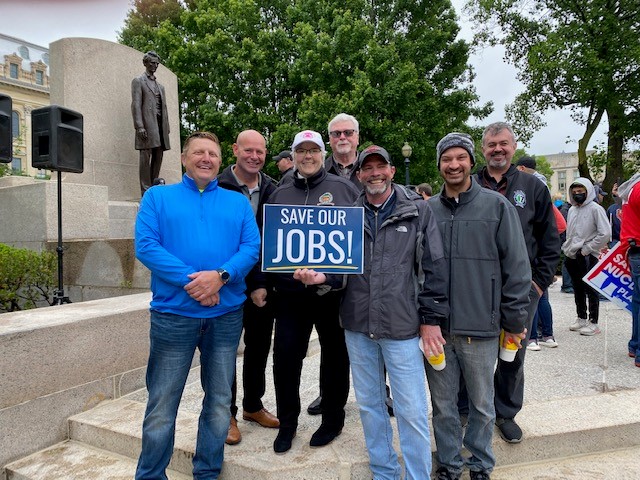 Illinois residents, members of organized labor, the Mechanical Insulators LMCT and others attended a rally in Springfield to bring attention to the public support of nuclear power plants within the state.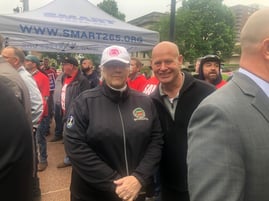 On May 28, hundreds of people attended a rally at the Illinois State Capitol in front of the Lincoln statue to urge state legislators to prevent the closure of Illinois's nuclear fleet and save thousands of jobs tied to the creation of nuclear power.
Last year, Exelon Generation announced the retirement of two nuclear power plants – the Byron plant and Dresden plant.
According to Exelon, the units combine to produce energy for more than four million homes.
Dresden is licensed to operate for another decade and Byron for another 20 years, Exelon said. Together, they employ more than 1,500 full-time employees and 2,000 supplemental workers during refueling outages.
Christopher Crane, President and CEO of Exelon, said the Dresden and Byron plants face revenue shortfalls in the hundreds of millions of dollars because of declining energy prices and market rules that allow fossil fuel plants to underbid clean resources
Additionally, two other plants – LaSalle and Braidwood – are also at high risk for premature closure without legislative action. These plants also combine to employ about 1,500 full-time employees.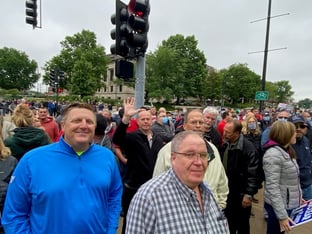 Earlier this year, Gov. J.B. Pritzker worked with lawmakers to craft legislation to make Illinois' power generation industry carbon-free by 2050. As part of the bill, electricity ratepayers would have to subsidize the Exelon plants for the next five year.
The Insulators LMCT strongly supports legislation to keep the state's nuclear power plants open.
Not only do the plants provide jobs for our affiliated contractors and members of the Insulators Union, but the plants also employ more than 1,000 highly trained and highly skilled workers, who help create carbon-free or zero-emission clean energy.
Exelon's fleet of nuclear power plants can help play a key role by making Illinois a carbon-free energy producing state by 2050.
According to the U.S. Department of Energy, nuclear is the largest source of clean power in the U. S., as all American plants combine to generate nearly 800 billion kilowatt hours of electricity each year. These same plants also produce more than half of the nation's emissions-free electricity, which eliminates more than 470 million metric tons of carbon emissions each year (the equivalent of removing 100 million cars off the road).
Each year, LMCT affiliated contractors employ thousands of highly skilled and highly trained Insulators, who help ensure the plants run as efficiently as possible.
Installing insulation inside a nuclear power plant is a highly specialized skill, as specific types of insulation and installation techniques are required. These materials and techniques differ when compared to normal mechanical applications due to the Nuclear Regulatory Commission (NRC) requirements. Contractors, who perform this type of work, have a qualified workforce specifically trained to work inside these plants.
By maintaining existing mechanical insulation, installing new insulation or repairing damaged insulation, the nuclear plants are able to achieve a return on their investment (ROI) by preventing heat from escaping from their systems. Mechanical insulation also helps keep those who work inside the plant safe.
Properly installed mechanical insulation helps nuclear power plants run 24-hours-a-day, seven-days-a-week, making them the most reliable and efficient energy source on the grid today.
As the nation transitions away from traditional fossil fuel power plants, nuclear plants will play a major role in ensuring the delivery of power, especially at times when solar and wind energy production cannot meet the demand.
The Mechanical Insulators LMCT urges Illinois House and Senate members to support legislation to keep the state's nuclear power plants open.