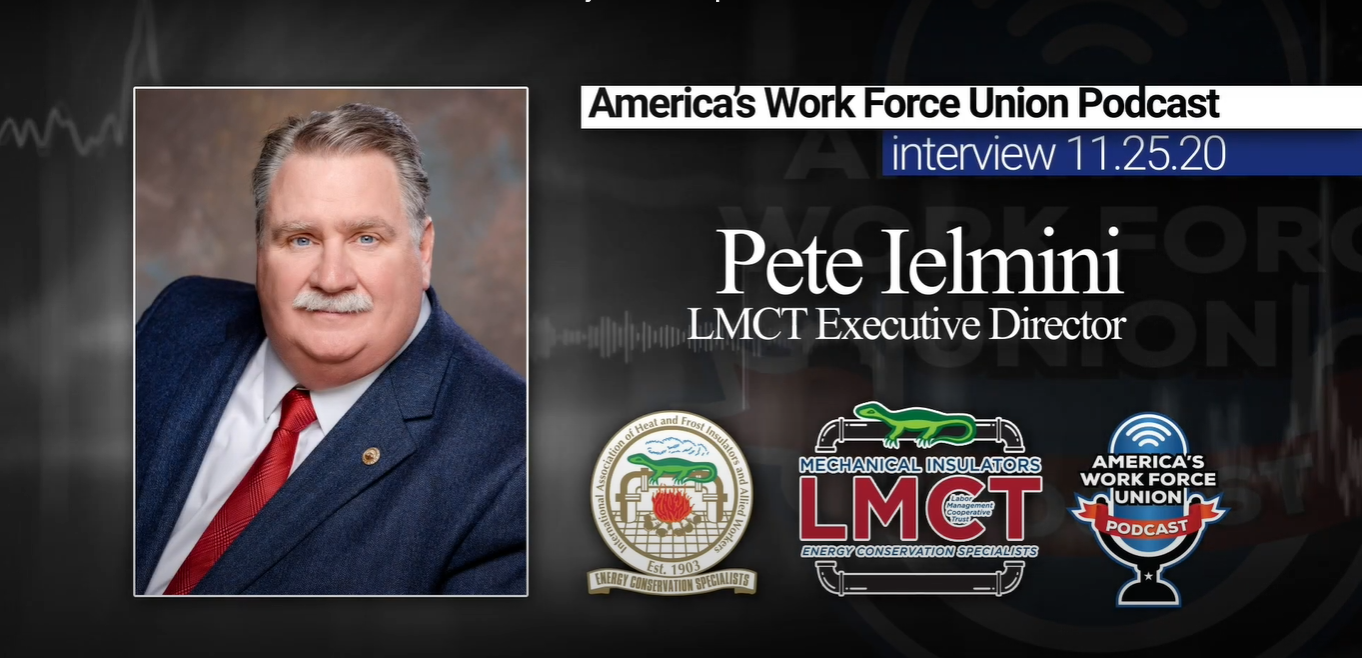 Mechanical Insulators Labor Management Cooperative Trust (LMCT) Executive Director Pete Ielmini joined the America's Work Force Union Podcast and explained why Mechanical Insulation tax incentives should be included in bipartisan legislation that revamps parts of the Build Back Better budget reconciliation bill.
The LMCT has long lobbied for tax incentives for building owners who install Mechanical Insulation. Such incentives were part of the Build Back Better budget reconciliation bill that passed the House, but stalled in the U.S. Senate when Democrats failed to reach the 50 vote threshold needed to pass the bill in December 2021.
Ielmini said Mechanical Insulation tax incentives should appeal to both parties because they create good paying jobs for union and non-union workers alike. It should also appeal to both environmentalists and those interested in energy independence for the nation, especially in light of the tragic events in Ukraine, he added.
He then explained how the LMCT strives to educate lawmakers about the benefits of Mechanical Insulation. A substantial amount of energy is wasted because mechanical systems lack sufficient Mechanical Insulation, he added.
Ielmini hopes Mechanical Insulation tax incentives will be passed in revamped legislation by the end of the calendar year.
Mechanical Insulation incentives passed in Maryland
On the state level, Ielmini spoke about Mechanical Insulation grants that recently passed through the Maryland legislature and now awaits the signature of Republican Gov. Larry Hogan.
The legislation did not create a tax credit, but instead provides grants to qualifying building owners to help cover the cost of the installation of Mechanical Insulation.
Ielmini believes a grant may be more popular than a tax break, which may ultimately encourage more people to take advantage of it. He compared the incentive to an in-store coupon.
Ielmini also recently attended the Canada's Building Trades Unions (CBTU) Legislative Conference in Ottawa. He was impressed by how well the CBTU partners with U.S. building trades through solidarity in union brotherhood.
Listen to the entire podcast